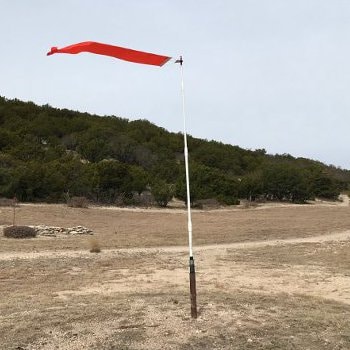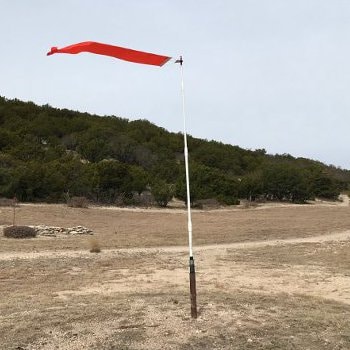 A one-time price of
$179.00
will be added to your order.
Description
Specifications
Wind Tracker Windsock & Telescoping 15' Windsock Pole
Designed for on-site and in-ground installations and portable applications. High impact Lexan® construction. The DV800 and Rotational Harness rotate 360 degrees around the Wonder Pole® at any wind speed. The Wind Tracker™ windsock is attached to the pivotal harness plate with two 1000 pound test braided polyester cords. Included are Edge Glow, "flip-over" rod and clips, four pocket wind speed cards, Lexan® crossbar, harness cords, and patented harness plate. Proudly made in the USA! Designed for rapid deployment on or off site. The Wind Tracker™ is Made in the USA, and guaranteed to out perform conventional wind tube type socks.
The Wind Tracker™ Windsock is constructed of outdoor grade 200 denier DuPont® nylon with Storm Tough® construction, and finished with 4 rows of stitching at the fly end using patented high strength Gore®Tenara® thread. The applications can be in environments where water (either salt water or fresh) are present, or where corrosive chemical solutions and/or vapors are present.
The telescoping fiberglass windsock pole is designed to sustain high winds under load. It is non-conductive, maintenance free, and can be positioned atop structures, attached to the sides of buildings, storage tanks, and attached to fences.
Use our optional pole stand and it can moved on site from one area to another utilizing the built in wheels.
Because it is telescoping, and retracts to 59" you do not have to over reach or step up to change the windsock. Just telescope the Wonder Pole® down, attach replacement windsock, and raise it to the desired height.
 Our Wonder Poles® are FR rated self extinguishing. The Wonder Pole® is designed for harsh weather conditions in all 50 states. The complete unit is approximately 6 pounds making this the most user friendly windsock pole in the industry.
Wonder Pole 415Pro

Pole Color: White
Retracted Size: 59"
Extended Size: 15'
Construction: Fiberglass composite ISO-9001:2000
Sections: 4 sections, base section 1.50" graduation 0.25", top mast 0.75"
Mechanism: Nesting sections, transitional collars hold and grip each section
Specifications: Meets or exceeds ASTM standards, HL/UV, E84 fire retardant
Manufacturer: American Flag & Banner Company, Inc.
Production: United States
Country of Origin: United States
Weight: 5 pounds 4 ounces
Wind Tracker Windsock Set
24" x 60" Wind Tracker Windsock
200 Deneir all-weather nylon
Four needle fly hem using Gore Tenera thread
Lock Guard™ stitching
Strength: Meets or exceeds commercial grade
OSHA compliant colors.
Four – pocket wind speed & direction guides
One 8 x 11" wind speed wall chart
Instructions
Materials: United States
Made in the USA.
Country of Origin: United States
Manufacturer: American Flag & Banner Company, Inc.